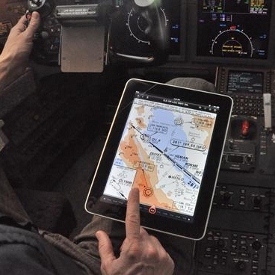 Axis Jet, a Sacramento-based aviation company, has received approval from the Federal Aviation Administration to utilize Apple's tablet by the company's flight crews as electronic chart and digital flight manual readers.
 "Traditional paper flight chart binders are large, heavy, unwieldy and difficult to update," says Chief PilotScott Malandrone.  "The iPad allows us an advantage is terms of safety and efficiency in the cockpit with the most up-to-the-second critical flight information."
 Axis Jet operates jets and turboprops for charter and management based in Sacramento, Napa andScottsdale, AZ and are the first aviation company in the area to receive FAA approval.  The company has always remained committed to state-of-the art technology, including online scheduling and quoting for clients through the companies website. 
"There is an eco-friendly component of this move as well.  Flight charts are large, heavy manuals that need to be updated monthly," said Axis Jet co-owner Matt Bosco.  "Eliminating the paper charts means less weight, less fuel burn and less paper.  We're excited to offer this environmentally-responsible and safety enhancement to our clients."
 Axis Jet is an aircraft sales, management and charter company headquartered at the SacramentoJetCenterat Sacramento Executive Airport (KSAC) with aircraft based in California, Arizonaand Oregon.  Axis Jet is a division of Axis Aviation Group, Inc., privately-owned company founded in 2004 by award-winning aviation leaders Matt Bosco and Dan Kimmel.  Axis Jet is FAA-authorized to fly throughout the U.S., Canadaand Mexicoand ARG/US Gold approved. To contact Axis Jet, email fly@axisjet.com, visit www.axisjet.com or call 916-391-5000.