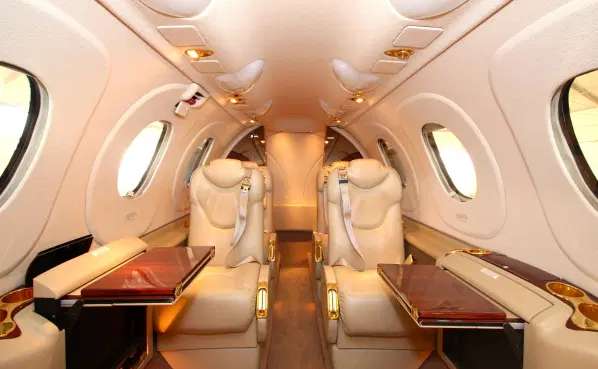 With its gorgeous natural scenery, world-class ski resorts, casinos and more, Lake Tahoe is a premier destination for Northern California residents looking for a quick weekend getaway. Many in the San Francisco Bay area choose to drive to Tahoe, but the crush of people heading east toward the Sierra Nevada mountains on Interstate 80 frequently results in heavy traffic, especially on weekends. Bumper-to-bumper frustration can easily put a drain on your fun, and it also takes a huge chunk of time out of your trip.
That's why we recommend chartering a flight to Tahoe. With Axis Jet, you can charter a private jet from most airports in the San Francisco Bay area and land at Truckee Tahoe Airport or Lake Tahoe Airport, just minutes from key attractions.
You don't have to own a plane to get there! We charge an hourly rate and then take care of all the details. The rate you pay covers the cost of a two-pilot crew, in-flight refreshments, and all the fuel, maintenance, insurance and management costs associated with the flight. Our top recommended jets to Tahoe are the Raytheon Premier, which seats four passengers, and the King Air 350, which seats eight passengers.
Charter flight rates
King Air 350 (Seats eight, one-way)
Raytheon Premier (Seats four, one-way, pictured above)
Keep in mind that the above rates are for the entire flight. The King Air 350 from Gnoss to Truckee works out to just over $500 per passenger if there are eight passengers on the flight. Other options in our charter fleet include the Cessna Mustang, Cessna Caravan and King Air 300.
While chartering your own jet may cost more than flying on a commercial airline, the experience is unparalleled. The biggest reason to charter is convenience and flexibility. You can leave and return whenever you want, and you won't have a layover or connecting flight anywhere else. Compare this to flying Southwest Airlines, for example: you will only have a handful of options for departure times, and you will almost certainly have to change planes in Las Vegas before making it to Tahoe. Another advantage to flying charter is privacy. It's just you and your travel companions on the flight; you're not sharing the plane with crying babies and dozens of other people you don't know or trust.
Lake Tahoe attractions 
Tahoe is probably best known as a popular winter destination, due to its incredible ski and snowboard resorts. Chairlifts usually open around mid-November and close around mid-April. On the north shore of Lake Tahoe, there is Alpine Meadows, Homewood, Northstar and Squaw Valley (the site of the 1960 Winter Olympics). On the south shore, there is Heavenly, Kirkwood and Sierra at Tahoe.
But winter isn't the only time to enjoy Lake Tahoe. Horseback riding is a popular summertime activity. Most stables are open from June to September and offer guided tours on trails throughout the Lake Tahoe mountain areas. Some of the favorite Tahoe horseback riding stables include Camp Richardson Corral, Cascade Stables, Northstar Stables and Squaw Valley Stables. Summer is also the best time of year to enjoy the deep blue waters of Lake Tahoe by boat, or relax and soak up the sun on the pristine shores of the lake.